SHEQ Point of Departure
At Murray & Roberts Cementation, we accept that we work in a hazardous environment, however:
We believe that zero incidents are achievable, zero incidents equals zero accidents, thus zero harm.
Safety is not a priority, but a value.
It is about empowering people to manage risk, not managing the statistics
We believe that the effective management of risk is pivotal to the growth of our company and the safety of our people
We accept that business culture drives safety culture, rather than safety programs driving the safety culture, and we appreciate how our leadership qualities enhance or destroy the inherent safety culture of our business. Leadership visibility in the field is vital – our current state of safety maturity relies heavily on leadership energy to deliver improved performance. 

Workplace culture and safety culture are both influenced by senior management. Research clearly indicates the importance of leadership, and employees' perceptions of their leaders, in the formation and maintenance of a positive safety culture and reduction of accidents. 

Understanding the Safety Culture 

It is clear that some organisations achieve better Occupation Health & Safety outcomes than others. Those that do are said to have a good 'safety culture'. Safety culture has been described as the attitudes, values, norms and beliefs that a particular Group of people share with respect to risk and safety.

An organisation's safety culture is a subset of its overall organisational or workplace culture and determines its level of safety. The concept of safety culture looks beyond formal arrangements to how people think and act toward safety.

In order to entrench a business culture that will drive the safety culture within Murray & Roberts Cementation, we have decided on a three pronged approach as depicted in the diagram below: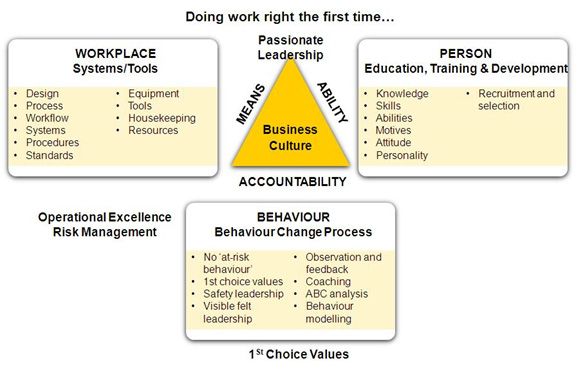 "Doing work right the first time" – If a task is performed in accordance with the required specifications, the outcome will achieve the desired results in terms of safety, health, environment and quality. 
Persons - Applied competencies are achieved through education, training and continual development, enabling employees to have the ability to perform at the desired level.
Workplace – The success of the business management system relies largely in ensuring employees have the means and access to tools and equipment necessary to complete their tasks.
Behaviour – Holding persons accountable for their behaviour.
The aforementioned is paramount in terms of reaching our company objectives of zero harm.
Contact Client Service
Murray & Roberts Client Service was established in 2003 to facilitate a rapid and comprehensive response to all internal and external queries relating to any aspect of the Group's worldwide operations...
In this section